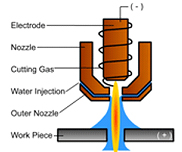 Water Injection Plasma Cutting
This process uses a single gas for plasma and utilizes water either radially or swirl injected directly into the arc to greatly improve arc constriction, therefore arc density and temperatures increase.
This process is used from 260 to 750 amps for high quality cutting of many materials and thicknesses.
This process is for mechanized applications only.